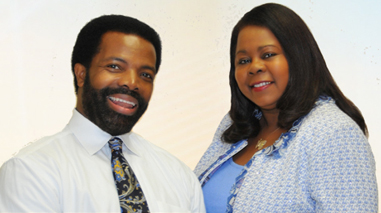 Clyde Oliver is a pastor, evangelist, Bible College teacher, and a conference and Campmeeting speaker. He has preached the Gospel throughout the United States, since 1990. He has also ministered in Europe, Asia, Africa, Central America, the islands of the South Pacific, and the Caribbean.
In 1979, the Lord instructed Pastor Oliver to move from Richmond, VA to Fort Worth, TX, where he served on the staff of Kenneth Copeland Ministries for 11 years. His ministry there included: Tape Production Supervisor, Crusade Sales Manager, and Prayer Minister. These foundational years proved to be fertile training ground for hands-on opportunities for mentorship, scriptural principles of faithfulness, and servanthood.
Pastor Oliver received his formal Bible training in 1980 -1981 at the Overcoming Faith Bible Training Center in Fort Worth, TX.
The emphasis of Pastor Oliver's ministry is developing maturity in the believer. He is licensed and ordained with Eagle Mountain International Church (a.k.a. Kenneth Copeland Ministries). He is also licensed and ordained and the South Coast Area Representative for Faith Christian Fellowship International, and a member of the International Convention of Faith Ministries. Pastor and Mrs. Oliver opened Maranatha Christian Center of Melbourne, Florida on Easter Sunday, April 15, 2001. 17 years later, on Sunday, April 15, 2018, Maranatha Christian Center of Fellsmere, Florida was opened. Their vision is to prepare people for the service of the Lord.
Marion Oliver is a graduate of Florida A&M University with a BS Degree in Pharmacy. She has had a very extensive career in the pharmaceutical field working with both government and private sectors. Currently she works as a retail pharmacy manager and a consultant pharmacist for ambulatory surgery centers.
Marion serves on the Board of Directors of Clyde Oliver Ministries and is very active with her husband in their ministry. Both Marion and Clyde are ordained with Kenneth Copeland Ministries, located in Fort Worth, Texas. Marion has been a Christian most of her life. While living in Los Angeles, she was a volunteer prayer counselor with Trinity Broadcasting Network. She also attended and completed Bible School in Northridge, CA. Besides ministering God's Word; Marion flows in a strong healing anointing.